First Half Duds, Second Half Studs
So far in the 2011 major league baseball season, there are plenty of players having sub-par seasons from a statistical point of view. What makes some of these players such a disappointment is that based upon their previous on-field performance, a lot more was expected of them. It's one thing to have Emilio Bonifacio struggling on your fantasy baseball team. It's quite another to endure the lack of production from a star player that was drafted near the top of your league.
The good news is that just because a player has had a poor first half of the season, it does not necessarily mean that they will continue to struggle in the second half. In fact, there are some players that have been very disappointing in the first 3 months of the season but may very well turn it around for the next 3 months. Identifying these players can help you target potential trade opportunities and even present a few "buy low" candidates to help out your fantasy baseball team.
A top 50 pick in most fantasy baseball drafts in the spring, Dunn has really disappointed in 2011. With a slash line of .175/.314/.323, the White Sox are not getting much return on their investment and neither are his fantasy baseball owners. His slugging average is approximately 200 points lower than what you might expect. Despite this horrible start to 2011, players that average 39 home runs over the previous 3 seasons have the talent to turn it around. The question is: will Dunn find his groove in the second half? Lots of people are hoping he does.
Hanley Ramirez (FLA)
–
Selected second overall in most fantasy drafts this year, Ramirez has failed to live up to his reputation. New Marlins manager Jack McKeon benched Hanley in only his second game back with the club. It seemed to work as Ramirez played very well upon his return and has shown renewed confidence hitting out of the cleanup spot. He could be in for a big post-All Star surge.
Offering power at a position which is woefully short on sluggers, Uggla was an appealing pick entering the 2011 season. However, he has struggled mightily since joining the Braves in the off-season. Never known for hitting for a high batting average, "Ugly Dan" has been able to be counted on for 30+ HR and 90+ RBI for 3 straight years before this season. Batting a woeful .177 with only 10 HR and 23 RBI, one has to assume he'll turn up the power in the second half.
A nice blend of power and speed has made Choo a fantasy baseball commodity for several seasons now. A DUI offense in the spring seemed to take its toll on Choo's on-field focus. That, or perhaps he was so freaked out by playing for a winning club that he couldn't get his head straight. Regardless, Choohas started to show signs of life at the plate and could have a very good second half.
Ubaldo punished hitters in the first half of 2010. He has been punishing his fantasy owners in the first half of 2011. He is a talented pitcher but seemingly unable to put together a consistent season. Maybe this year he'll reverse the trend and have a dominant second half. Let's hope he tones down the walks a little for that to happen.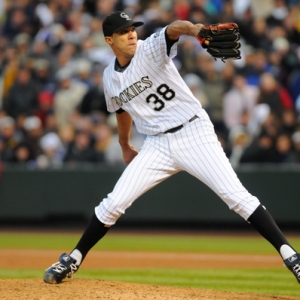 After 3 straight season of 200+ innings and averaging 189 Ks and a 3.40 ERA over that span, Dempster has stumbled out of the gate in 2011. However, he has shown signs of improvement in several recent starts and has shown too much talent (and consistency) in the past to rule him out in the second half.
Even on poor Royals squads, the "Mexicutioner" has been very good over the past several seasons, with 42, 30 and 43 saves in 2008, 2009 and 2010 respectively. He got so bad early in 2011 that he pulled himself from the closers role. Since reclaiming the job, he hasn't given up an earned run in 8 straight outings. Look for him to continue to regain form in the second half of the season.
Don't always let first half swoons influence your decisions on a player. That's the fun of fantasy baseball after all, finding those players that will turn around their season….. and yours!