Versatile & Error: Good & Bad Utility Players for the Fantasy Baseball Playoffs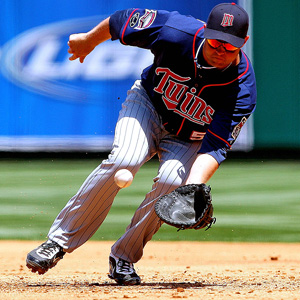 For many 
fantasy baseball
 leagues, the month of September is considered the '
playoffs
' (the viability of this can be addressed in a separate article). As you head into the 
playoffs
, one issue to contend with is the fact that many major league teams will be looking to give their 
veterans
 some rest as well as calling up some
young prospects
 from the farm team. More often than not, when these veterans are given a day off, your 
fantasy team
 is left with a hole in the line up. One tactic for combating this issue is to add a player or two to your roster to give you some versatility. If you add a player with 
multiple position eligibility 
for example, you will be better prepared to plug the holes in your line up as they arise. Since many of the players with 
multiple position eligibility
 are 
utility players
, they can often be obtained 'on the cheap'. Tread with caution however, as there are also certain 
utility players
 that may in fact see 
less
 playing time down the stretch. Some players worth discussing include (
Note
: position eligibility may vary according to your league rules and regulations):
At first glance, Kennedy looks like a player you may want to roster for your stretch drive. You may want to think again, however. Although he does have multiple position eligibility around the infield which looks enticing enough, Seattle is a team far out of contention and will undoubtedly be looking to use playing time for the evaluation of their young talent. Kennedy will most likely be on the outside looking in.
With 
Ike Davis
 out with injury, Duda is the everyday first baseman for the Mets and as a young player will be given every opportunity to prove his worth the rest of the way. It also doesn't hurt that he hits out of the cleanup spot. Sure, the Mets are no offensive power house, but hitting 4
th
 on any major league club has its advantages to be sure.
Although he offers no power (0 HR in 2011), Carroll will bring a little bit of speed to your fantasy roster (10 SB). He has hit consistently in both halves of the season and is equally effective against either RHP or LHP. If you are looking for big numbers in any category, you can look elsewhere. However, if a serviceable fill-in player is what you need, Carroll's your man.
 Long sought after for his multiple position eligibility, moving to Coors Field only increased interest Wigginton. However, his value has declined markedly in 2011. Sure, he has clubbed 14 HR but only 1 has come since the All Star break (to go along with 7 RBI, 2 SB and a .253 AVG in that span).  Unlike past seasons, don't go hard after Ty as he simply will not deliver help to your fantasy team down the stretch.
Out since August 10th with a neck injury, Cuddyer is due back any day now and could be a good pickup for your playoff run. In addition, because of the injury, he may be available on the cheap as well.
Although not a superstar, Jones has 20 HR power and a touch of speed. He has hit out of both the number 2 spot as well as 6th in the Pirates batting order and has brought a little something to both. He has been particularly effective in August hitting .313 with 4 HR and 2 SB.
Landing a key player with multiple position eligibility for your playoff stretch drive may be just the boost you need, especially once the ultra-competitive playoff fantasy baseball games of September begin.